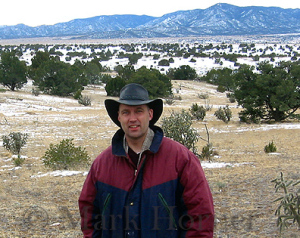 Dear Reader:
I'd like to take this opportunity to wish you a Merry Christmas and a safe and happy holiday season. After October's dramatic month-long murder trial, this holiday season provides an opportunity to pause and reflect on the events that have unfolded since Girly Chew Hossencofft's disappearance more than three years ago.
As of this writing, the trial of defendant Bill Miller is scheduled to begin January 27, 2003. I've carefully chosen the word scheduled because it has been quite common to see trial date's postponed with all three defendants throughout the course of the Hossencofft Case. Miller is charged with five counts of evidence tampering.
If you haven't heard about witness Julie McGuire's conversation with well-known psychic Sylvia Browne, you may want to read about it in the Albuqueque Tribune. The topic is the possible location of Girly's missing body.
In and around Magdalena today, thin, scattered patches of snow appear on the chilled ground. Locals are talking about the approaching storm which is expected to bring several inches of new snow. This is the place last connected to Girly. A highway worker discovered her bloodstained clothing along Highway-60 on September 10, 1999…one day after she disappeared.
Girly's parents and brothers in Malaysia continue to pray that her remains will be found. They want to bring her home.
Regards,
Mark