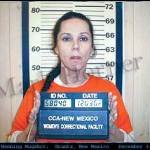 By ASSOCIATED PRESS
SANTA FE (AP) – The state Supreme Court has upheld the murder and kidnapping convictions of a woman for killing her ex-boyfriend's wife, whose body has never been found.
Linda Henning was sentenced to life in prison for murdering Girly Chew Hossencofft, who disappeared in September 1999.
The Supreme Court, in an unanimous ruling issued Tuesday, overturned Henning's convictions on four counts of perjury but affirmed all other convictions, including felony murder, kidnapping, conspiracy to kidnap and tampering with evidence.
A jury convicted Henning in 2003, but spared her the death penalty. She was sentenced to life plus 43 1/2 years in prison.
Girly's husband, Diazien Hossencofft, was sentenced to a life prison term for her murder. He pleaded guilty in January 2002.
The Malaysian-born victim was reported missing by co-workers at an Albuquerque bank where she had worked as a teller. She had told co-workers that she was involved in a bitter separation from her husband and that if she did not show up for work, they should expect the worst.