"She, she really tried to stay focused on the future, about getting this (annulment/divorce) and putting it behind her and starting her life again."-Bryan Fox
Bryan Fox had not spoken to the media about his client Girly Hossencofft until Monday, October 25, 1999. He agreed to speak with me on the condition that we wouldn't talk about specifics of the criminal investigation or particulars in the annulment/divorce proceedings.
Fox did give new insight into the personality and character of Girly. It was all positive.
Mr. Fox also agreed to speak because I explained the story would address the issue of domestic violence and would, hopefully, help other women.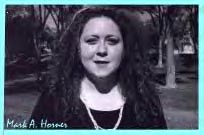 Domestic violence activist Elizabeth Monteith of the Women's Community Association (Monteith is closely following the Hossencofft case)
"It's very sad that she did follow all of the right steps to protect herself and she's still missing." And, "I believe that, as either a neighbor or a friend or a relative, just providing the resource information (for help regarding domestic violence) isn't enough. We should actually do a follow-up."-Elizabeth Monteith
New Details: 1998 Domestic Violence Incident
Girly Hossencofft's own handwriting in a "Domestic Violence Victim's Statement" details the following incident:
"My husband was cheating on our marriage for 1 1/2 years. He was very upset when I confronted the woman and she decided not to see him anymore. My husband wanted a divorce. He hit me, choked me and threatened to kill me. He pushed me to the floor at home on 1/17/98, 5:30pm. I yelled for help. Our tenant, Shelly Abrams, witnessed the incident, called my neighbor Pedro Tirado, he came, I ran out from the house and called the police at my neighbor's."
The police report, filled out by Officer T. Hoffman, states the following:
Diazien Hossencofft was booked into BCDC. The arrest was made, in whole or part, based on probable cause to believe that the offender committed domestic abuse on his wife. Officers were dispatched to 8905 Delamar reference a domestic dispute. Upon arrival, Girly Hossencofft told us her husband beat her up. Girly told us her husband Diazien choked her to where she almost passed out (red mark on her neck) and punched her several times in the face (left eye swollen/red). Girly also said she was pushed down on the ground (leg had scrape on it). A dresser fell on Girly during incident. Girly said she is in fear for her life. Roommate witnessed incident (statement given). Diazien was arrested and booked into BCDC.
The roommate, then 53-year-old Shelly Abrams, wrote down the following in a statement to police:
"I came out of my room to bring something into the kitchen when Diazien had Girly in a bear hold in the kitchen and she was crying and screaming. He was pulling her hair and was dragging her into the bedroom and it appeared a chest fell on her–not sure–he was on top of her. I called Pedro Tirado and told him to come right over, thinking he would be able to reason with him. Police arrived."
*At this time, I'd like to provide a phone number for a domestic violence hotline. If you, or someone you know needs help, this is a great number to call. It's a toll free number and works statewide.
DOMESTIC VIOLENCE HOTLINE
1-800-773-3645