Felissa Garcia Kelley claims investigators were so desperate to put her client behind bars that they lied.
Diazien Hossencofft is in federal custody for allegedly making threats over the phone to his attorney, Ms Kelley. Ms. Kelley told me, "He (Diazien Hossencofft) never threatened me." She went on to say, "I think it's a shame that the system can manipulate and twist words and statements I have made to create statements that I never made."
FBI Special Agent and spokesperson Doug Beldon says Kelley has suddenly changed her tune. Beldon points out that Kelley's comments are contained in an affidavit signed by a federal judge. Beldon told me, "The FBI stands completely behind the contents and the integrity of the affidavit upon which a U-S Judge issued a warrant for the arrest of Hossencofft." He added, "It was mentioned (by Kelley) in open court for the public to hear that she was fearful of Hossencofft and his current girlfriend and, based upon that fear, had obtained a gun and was carrying it."
It's important to understand that Kelley has represented Diazien Hossensofft since February 5, 1999 (according to Entry of Appearance document filed in Second Judicial Court, Bernalillo County), long before the September 10, 1999 disappearance of Mrs. Girly Hossencofft.
Kelley's representation of Mr. Hossencofft transpired after a chain of events in late January of 1999. On January 25, Girly Hossencofft filed a Petition for Order Prohibiting Domestic Violence. In this document, she writes that on the previous day (January 24), "I found my husband loosening the bolts on my car wheels in the garage at 9:00pm. Before that, he strictly gave me instructions to drive on the freeway tomorrow, to go to Hyatt Hotel downtown to get a dinner menu. We had an argument in the garage and he shoved me on the front of the car and he chased me when I ran out of the house. He called a couple times to my neighbors house, came to the house arguing and yelling (he) wanted to confront me, pounded on the door and tried to drive my car away."
One day after filing the Petition for Order Prohibiting Domestic Violence, Girly filed a Petition for Annulment. Her friends tell me Girly wanted the annulment because a divorce is considered shameful in her homeland of Malaysia. What would her family in Malaysia think if she was "divorced"?
The annulment petition explains that Girly and Diazien Hossencofft were married January 8, 1993. It explains that they have one minor child, Demetri Hossencofft, born August 8, 1996.
Girly's Petition for Annulment states that Diazien "failed to disclose to Petitioner (Girly) relevant parts of his past history including, but not limited to misrepresentations about his identity."
A very interesting aspect of this case begins to unfold July 15 of 1999. In a court document titled Petitioner's Proposed Findings of Fact and Conclusions of Law, Section II, numbers 9, 10, and 11, it is written: "Wife is not the biological mother of the minor child. Husband is not the biological father of the minor child. The minor child was brought into the marriage solely by Husband, without the approval, consent, or any other involvement whatsoever by wife."
Now let's fast-forward to a court document titled Proposed Marital Settlement Agreement dated October 1, 1999 (three weeks after Girly disappeared): "Upon information and belief based upon the representations made by Husband, Husband is the biological father of the minor child." "Wife shall relinquish and terminate all parental rights and responsibilities she may have pertaining to the minor child, if any. Husband shall be awarded sole legal and physical custody of the minor child."
It should be noted that, shortly before Girly disappeared, Diazien put the child up for adoption.
All of this information supports what I've reported earlier. My earlier reports stated that one of Girly's co-workers explained to me that Girly had recently been extremely distraught after learning that Diazien was the biological father of the child and that he had put the child up for adoption.
I conclude today with a promise to detail another–and much more violent case–of domestic violence involving Girly and Diazien Hossencofft. Information about that episode is detailed in court and police records. I've read it. And I'll pass it on in the next edition of The Horner Report. Today's report concludes with a bit more information located directly below.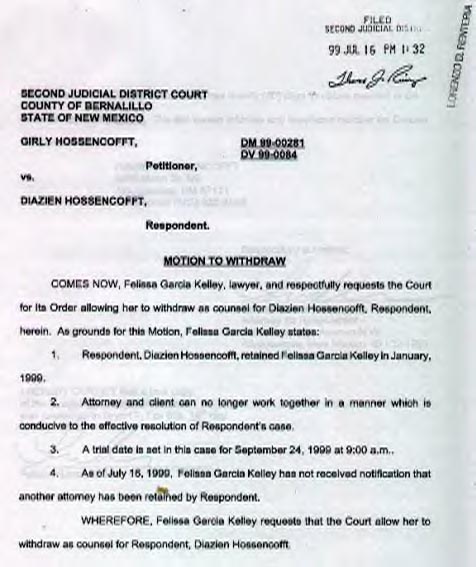 Interestingly, Ms. Kelley filed a document requesting that the court allow her to withdraw as counsel for Diazien Hossencofft. Item number "2" states: "Attorney and client can no longer work together in a manner which is conducive to the effective resolution of Respondent's case."
On Wednesday, October 20, 1999, I asked Ms. Kelley if she could explain her desire in July to stop representing Hossencofft. She said she couldn't answer that question because it would be a violation of attorney/client privilege. She did tell me that her representation of Mr. Hossencofft has never been interrupted.