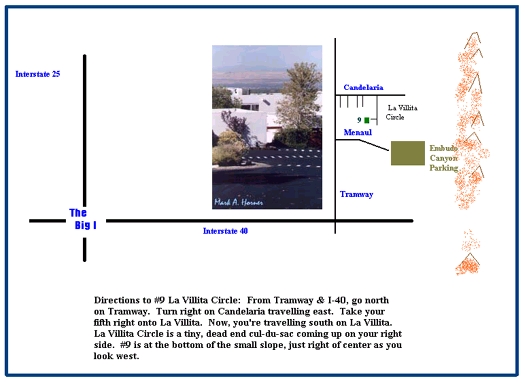 #9 La Villita Circle NE, Albuquerque, NM 87112
On September 12, 1999, Albuquerque police searched Linda Henning's house and two vehicles at the same location.
The vehicles were a 1993 grayish brown Honda 4-door with New Mexico plates…and a 1992 dark colored Cadillac with New Mexico plates.
According to the search warrant, property taken by police included: police photographs, firearms, ammunition, purse, documents and briefcase.
According to the Affidavit for Search Warrant, Linda Theresa Henning (also known as Theresa Henning) lived at the home. The affidavit says the Honda is registered to Michael R. Harvey or Theresa Henning. It says the Cadillac is registered to Linda Theresa Henning.
According to the same affidavit, Sergeant Edward Ade interviewed Linda Henning who stated Mr. Hossencofft was a friend of hers who stayed with her on Wednesday, September 8, 1999, and Thursday, September 9, 1999.
When I visited #9 La Villita Circle NE this past week, it appeared empty. The front gate was locked. Neighbors told me they believe it's been several weeks since anyone has lived in the home.
It's important to note that this home is located only about a half mile from Embudo Canyon, where police in the Hossencofft case were scouring the desert two weeks ago.
Also, one source tells me Ms. Henning is Mr. Hossencofft's current girlfriend. I have not been able to locate Ms. Henning or Mr. Harvey, yet.
Finally, I made a promise in the previous Hossencofft Update. That promise will be fulfilled tomorrow.